Come and explore Mafia Island with us!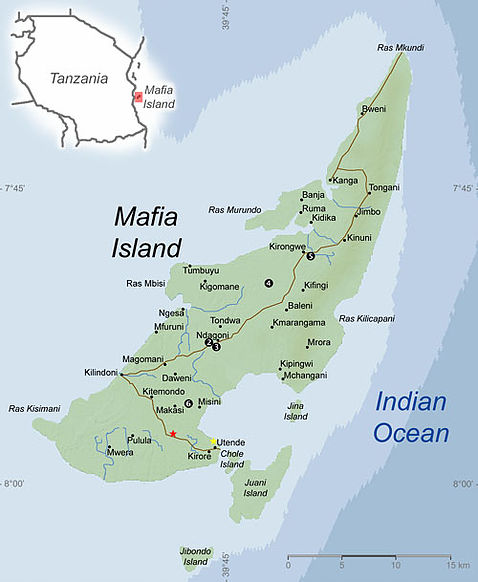 Mafia Island is located southeast of Dar es Salaam. The main town is Kilindoni.
Mafia is undoubtedly the best dive location in Tanzania. It's a small haven that has a lot to offer and, quite exquisitely, is also suitable for less experienced divers. The reefs of the archipelago offer a staggeringly beautiful and varied display of marine life. The diversity of animal and plant life is hard to match, with over 50 types of corals and 400 species of fish so far identified. On top of that, Mafia offers one of the world's best opportunities for snorkeling with whale sharks!
Our favorite place:
Chole Mjini Lodge:
Set sail for its mangrove-lined shores, and as the first treehouses hove into view, the last vestiges of the 21st century recede no roads, no cars, no electricity... Just a star-spangled sky, flickering candles, superb food, great company, and the timeless luxuries of space, immersion in nature, privacy, and utter peace....Chole Mjini Lodge website
The Butiama Beach:
Butiama Beach is situated on the west coast of Mafia Island, close to the main town of Kilindoni and outside of the Marine Park boundaries. With only 13 bungalows and a maximum occupancy of 32 people, it is the perfect, casual beachfront retreat to relax and unwind. . Each bungalow is beautifully furnished with unique furniture – handcrafted from the sun and sea-kissed hardwoods of retired sailing dhows and decorated with kikois – charming, colorful handwoven cotton sarongs. Explore the beachfront and mangroves in a kayak; sail to nearby islands and sandbanks in a dhow; snorkel the reef to see its multi-hued corals, 460-plus species of fish and various species of turtles; scuba dive, go fishing or swim with the world's largest fish - the whale shark; or look for the resident animals and birdlife during a land excursion. Return to a massage and a sunset view...The Butiama Beach website